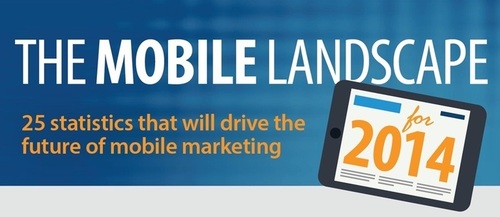 A recent study shows there are more mobile devices on earth than there are people.  Smartphone and tablet sales outnumber desktop pc sales.  Despite the massive growth in mobile traffic over the past two years almost half (45%) of businesses still don't have a mobile optimized site.  Here's a great article by Kelsey Jones that gives some great statistics that will make you think about your mobile marketing strategy.
By Kelsey Jones
"The mobile landscape certainly continues to grow as we head into 2014. More than half of the U.S. population owns a smartphone (57%, according to a Pew study) and Americans are spending an average of two hours per day on their mobile devices
With 8% of a person's day spent looking a mobile screen, there is a huge opportunity for mobile marketers to find customers who are looking for local services, as well as m-commerce customers who want to make a purchase online through their smartphone or other mobile device.
After all, the mobile market will generate 35% more spending by 2015 compared to 2012: $400 billion versus $139 billion.
What are you doing to increase your mobile marketing efforts?" Click here to read more
Source:  www.searchenginejournal.com
Ready Mobile Solutions's insight:
Ready Mobile Solutions can help you develop and integrate a complete custom mobile strategy.  Click here to learn more.