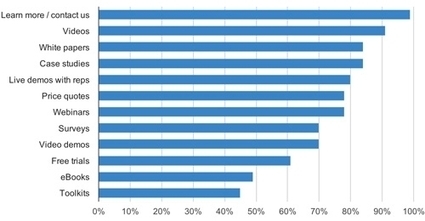 "By Sean Rosensteel
If you feel online video is just another over hyped, passing fad, think again. In fact, online video is gaining strength as a source for content marketing. Take a peek at some pertinent data from the B2B Demand Generation Benchmark Survey for 2012. This is just one of the survey topics: Percentage of Marketers Using Each Content or Offer.
The take-away? Most respondents prefer video over white papers, case studies, even live demos with reps. And you should factor that into your 2013 content marketing strategy.
By the way, this survey was compiled by marketing automation giant Eloqua, CMO.com(Adobe's content site providing digital marketing news and insight for senior marketing executives around the globe) and Software Advice, an online consultancy which publishes product profiles, comparisons and best practices guides to help buyers find the right software for their business. Read the blog post with all the details and an insightful video here.
So, Why Video?…Click here to read more"
Source:  www.forbes.com
Ready Mobile Solutions's insight:
Need ideas or help with your video marketing?  CLICK HERE